Food Security
There are a few programs that offer need-based food assistance to UC Merced students, faculty, and staff.  More information can be found at the website for Health Promotion at UC Merced.  The CARE office has the following list of services offered this semester.
Bobcat Pantry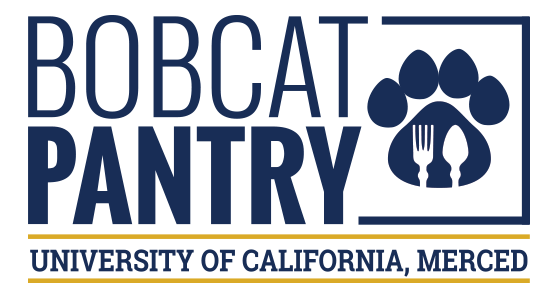 Located in Terrace Center 131, the Bobcat Pantry is a student-led free resource service created to encourage nutritious and sustainable ways of living.  Each week, you get 5 points that you can redeem on a variety of food and hygiene items.  This service is available to all students with a valid CatCard, and is open from 1-5pm on Monday, Wednesday, and Thursday.  First-time visitors must complete a survey.
For more information, see Basic Needs Security or send an email to basicneeds@ucmerced.edu.
CropMobster
UC Merced has a partnership with CropMobster, a free online food and agricultural exchange and community engagement program.
UC Merced Community Food Pantry

UC Merced offers a monthly a food distribution event for those who need additional assistance.  This event is open to the public and occurs on the 3rd Friday of every month from 10am-2pm at the Merced Tri-College Center, on G st between Yosemite Ave and Mercy Medical Center.
Additional resources can be found in this flyer.